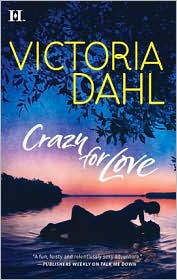 Crazy for Love (Hqn)
by Victoria Dahl
Do you ever just feel like reading something completely fluffy? Maybe you read a few pages and you just get sucked in? And reading the novel in a day is easier than stopping? Such was the case on Saturday. Despite the Harlequin imprint, I'd classify this one as more of a chick lit novel than genre romance.
It's the story of Chloe Turner, a nice girl in crazy circumstances. Specifically, her former fiancée has embroiled her in a tabloid news scandal by faking his own death to get out of the wedding! Now hounded by paparazzi, her best friend Jenn has taken her to a remote island off the Virginia coast to hide out and begin to heal. Wouldn't you just know that there are two gorgeous brothers (with issues of their own) in the cabin next-door.
As noted above, this was a quick, fluffy read. There wasn't a thing believable about it, but there were a few laughs and I didn't have to think too hard. It was hardly the worst way I've spent a Saturday afternoon.