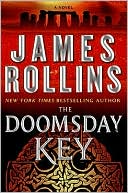 The Doomsday Key: A Novel
by James Rollins
Yes, I doubted, very briefly. I'm ashamed. It's not that The Doomsday Key doesn't start off in a readable and totally entertaining manner. It really does. Rollins has what he does down to a science by now. He quickly reintroduces the main players (a few of whom we haven't seen in a while: Rachel Verona and Seichan) and establishes their relationships with each other. In addition to the ladies above, all the main Sigma players make their appearance, but as usual not all of them are heavily featured on this adventure. Seichan fans rejoice, she has a major role and experiences tremendous character development in this novel.
After the characters are reestablished, (again, as you'd expect) the action starts. A motorcycle chase here, a shootout there, a dash of international travel. Now, I love James Rollins with all my heart, but these opening salvos--while very well-written--felt a little... generic. My moment of doubt.
Happily, it didn't last long. Once Rollins set the main plot in motion, all such thoughts vanished. Seriously, WHAT was I thinking? For me, things really kicked into high gear with the introduction of a new character, Professor Wallace Boyle, whose lecture on peat bogs thrilled me to my soul. I know, peat bogs, who'd a thunk it? But again, that's Rollins' gift. He must look at the world through curiosity-colored glasses; he can find the wonder in the most unlikely of places and subjects. And even more brilliantly, he manages to string together a laundry list of disparate fascinating topics into the plot of a tight, tense thriller. And he does it again and again.
I know I'm being very, very vague about the plot. It would be a shame to give too much away. The central plot revolves around a plague from the past and a plague of the future: hunger. As characters in the novel expound, there will soon be a tipping point where there are far too many people on this planet to feed. Who gets to choose who lives or who dies? If you had the power and resources to make the hard choices, what would you do "to save the world?" And would you be a hero or a villain?
It is the exploring of the above questions that entails ancient artifacts, hidden rooms, booby traps, prophecies come true, missing bumble bees, miracle-performing saints, love triangles, the final resting place of Merlin the wizard, polar bears, teddy bears, and the world's healthiest apple. And I didn't even give you a hint of the real shocker!
A lot of thrillers make the goal, save the world, whatever, and end abruptly. Not so here. There was a nice... cooling down period after the action ended. It's a chance to check in with all the major characters, and a chance for Rollins to leave us with another of his signature cliff-hangers. This one isn't as brutal as some he's written, but those invested in the series will be left with a question to keep them wondering for the coming year.
A final note: Is it wrong that the author's afterwards have become my very favorite part of these novels? This may be the longest one yet (And for God's sake, DON'T read it before you finish the book!), and I am staggered by how much true stuff was worked into the novel. I mean, pretty much every too-amazing-to-be-true fact was, in fact, true. James Rollins, you rock my world!
Comment
Permalink