Have you met my friend Nicole? She's the devil. You heard me.
I'll save you the click. A bunch of folks online are making it their summer project to read David Foster Wallace's 1,079 page brilliant, challenging novel
Infinite Jest
. I have always wanted to read this monster. This is absolutely the best opportunity to do so. Unfortunately, I owe reviews on 12 novels.
Nicole's like, "Come on, we should all do it. It'll be fun!"
Grrr
.
Now, clearly I don't have time to read this book, but just, you know, out of idle curiosity, I downloaded a lengthy "sample" on my Kindle. I've just read Dave
Eggers
' forward and the opening of the novel. And
OMG
, this is the perfect book to read on a Kindle! Even a fully tricked out Kindle weighs like a tenth of that doorstop. The built-in dictionary will help with tricky vocabulary. (Although, there were already words in the sample that the dictionary couldn't help with.
Kekuléan
. Really?) And instead of having to page all the way to the back of the book for footnotes, you can just click on them and then click back. If I ever read this book, I'm
definitely
reading it on the Kindle.
Nicole, you suck.
Now this is cool... I just googled
Kekuléan
and found this: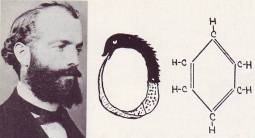 "I stare carefully into the

Kekuléan

knot of the middle Dean's necktie."
"

Kekuléan

" is not a type of knot. To Hal, the knot he is focusing on resembles the, self-consuming, annular shape of the snakes that inspired August

Kekulé's

discovery of Benzene's molecular structure. August

Kekule

(1829-1896), a renowned German organic chemist was the principal founder of the theory of chemical structure. His most famous work, the discovery of Benzene molecule's structure, is said to be inspired by a dream. "

Kekulé's

Dream" was that of a self-devouring snake, the shape of which, he used to describe the Benzene Ring. Hal's intense focus on this annular, or ring-like, part of the tie is the first reference to annular shapes.
That's one small part of this amazing Infinite Jest wiki:
Everything imaginable is fully
annotated
. No that it matters. I am
not
reading this book.