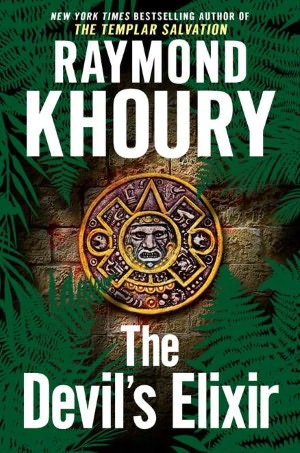 The Devil's Elixir
by
Raymond Khoury
As many thrillers as I read, somehow I hadn't yet made it around to Raymond Khoury.
So, even though I hadn't read earlier Templar novels featuring Sean Reilly and Tess Chaykin, I decided to dive right in.
Fortunately, Khoury's enough of a pro to gracefully exposit everything I needed for this novel without spoiling past tales.
I didn't feel like I was missing a thing.
The Devil's Elixir opens with three brief prologues that establish elements of the story.
After that, the action takes off with a bang.
Specifically the bang of the gunshot that kills former DEA agent Michelle Martinez's boyfriend the moment he answers the door to her apartment.
The killers then go after Michelle.
She grabs her four-year-old son, gets out, and calls the most trust-worthy person she can think of, former flame Sean Reilly.
He gets on a plane no questions asked and gets sucked into Michelle's inexplicable nightmare.
She hasn't worked in law enforcement in years, but these killers won't quit.
Of course, this is barely the beginning of what turned out to be an entertaining page-turner.
As noted earlier, there's plenty of action, but story doesn't suffer in service of it.
Things move at a consistently fast pace.
I won't claim these are the most well-developed characters of all time, but they're likable enough that I cared about their fates.
Finally, there was a major twist in the last quarter of the novel.
Ultimately, I'm not sure what I thought of it, but I didn't see it coming at all.
Overall, it was well-handled.
This was a positive enough introduction to Khoury's work, that I'm much more interested in reading the earlier Sean & Tess novels and will certainly consider reading future works.