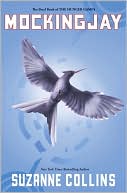 If The Hunger Games and Catching Fire are tales of a dystopia, then Mockingjay is a slight departure for the series. This final chapter in the trilogy is a war story. Panem is at war. The stakes for Katniss and the band of characters that we've grown to love (and sometimes hate) have never been higher. And while Suzanne Collins' work on this series has been masterful to date, she rises to the occasion to give her story the conclusion it deserves.

As the novel opens, Katniss and hundreds of other refugees and revolutionaries have been taken in by the citizens of District 13. The rumors were true, but District 13 is both more and less than anything she could have envisioned. While safety is a fluid concept in Katniss's experience, she is what passes for safe at the moment. Still, she is tortured by thoughts of Peeta, being held prisoner in the Capitol. And she is tortured by too many ghosts. We're introduced to a somewhat more fragile Katniss in this novel, and she is not the only character in a somewhat diminished state. The events unfolding around them, as well as those of the past few years, have taken a heavy toll.

It is in this final chapter that the surviving characters must wage a battle for the future of Panem. Ms. Collins has never shied away from depicting graphic violence and disturbing scenes, and this novel may be the most disturbing yet. For me, the life and death struggles that occur in a war resonate more painfully than a staged fight to the death. There's no denying that this is a dark tale. It is even more impressive, therefore, that Ms. Collins manages to infuse enough humor into the book to occasionally relieve the gloom, and to remind us why we love these characters in the first place.

This third book is a departure in other ways. The pace of the story-telling wasn't quite as breathless. While still very much a thriller, in some ways Mockingjay allowed itself a bit more time to explore the emotional lives and constantly shifting relationships of the characters, as well as the full ramifications of the dangerous situations in which they found themselves. The emotional aspects of Katniss's tale have never been given short shrift, but there was a greater expansiveness here, perhaps owing to her increasing maturity. Of course, fans are waiting with bated breath to learn the outcome of the Katniss-Gale-Peeta love triangle. There is a resolution, one that seemed like the only possible outcome to me. The ending of the book is satisfying, not always happy, but deeply satisfying.

Perhaps the best testament I can give Mockingjay is to tell you that this 41-year-old, responsible, gainfully-employed woman read it from cover to cover between 1:00AM and 7:00AM this morning. Not for one minute was I in danger of falling asleep. I think it's going to be a long time before a story inspires me to want to pull a stunt like that again.