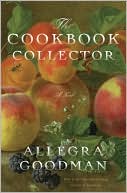 The Cookbook Collector: A Novel
by Allegra Goodman
One of my favorite things is reading a novel with a setting with which I'm intimately familiar. That was certainly the case with Allegra Goodman's wonderful The Cookbook Collector. In the 90's, I worked for a high-tech start-up in Cambridge, MA. I shopped at Store 24. I lived on Newbury Street. In 2002, I relocated to San Francisco in the very depths of the dot-com bust. I window shop in Palo Alto. I eat at Greens. And I certainly know what it is like to be one of a pair of very different sisters. I recognize Emily and Jess, the sisters at the center of this novel, as they are easily identifiable Bay Area types, and I know the mixture of admiration and exasperation they evoke in me.
As familiar as it all was, Ms. Goodman grabbed me from the opening pages of this beautifully-written novel. And the story she told, a story I was so intimately familiar with, held me rapt, excitedly turning pages, wondering what was going to happen next--even though I
knew
what was going to happen next. I'd
lived
these times, but still Allegra Goodman managed to surprise me, as though history would turn out differently in her capable hands.
For what she has written is a story of our recent history, from 1999 to 2002. Far beyond the rise and fall of the dot-com economy, however, this is a novel of relationships. Relationships between siblings, friends, lovers, parents and children, colleagues, competitors, and acquaintances. Some of these relationships are successful, others not so much, but one in particular was utterly delicious. Goodman writes:
"...he longed to nourish her with clementines, and pears in season, fresh whole-wheat bread and butter, wild strawberries, comté cheese, fresh figs and oily Marcona almonds, tender yellow beets. He would sear red meat, if she would let him, and grill spring lamb. Cut the thorns off artichokes and dip the leaves in fresh aoli, poach her fish--thick Dover sole in wine and shallots--julienne potatoes, roast a whole chicken with lemon slices under the skin. He would serve a salad of heirloom tomatoes and fresh mozzarella and just-picked basil, Serve her and watch her savor dinner, pour for her, and watch her drink. That would be enough for him. To find her plums in season, and perfect nectarines, velvet apricots, dark succulent duck. To bring her all these things and watch her eat."

I'll admit the food passages were among my favorite, and a seduction over dinner was the most erotic thing I've read in some time.
This is a bittersweet tale about a bittersweet time. Allegra Goodman has done an amazing job capturing time and place and creating some indelible characters and some gorgeous prose along the way. What a joy to read!