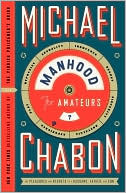 Manhood for Amateurs: The Pleasures and Regrets of a Husband, Father, and Son
by Michael Chabon
A confession... I have little interest in "the pleasures and regrets of a husband, father, and son." I have
a lot
of interest in Michael Chabon. And why not? In addition to being one of my favorite authors, we're both 40-something Jews who were raised in suburban Maryland. And we both live in the San Francisco Bay Area and travel in literary circles. Okay, we're acquainted--but in the most superficial way imaginable; just enough to say hello and kibitz a bit. But the fact that he's a nice guy is completely subsumed by the fact that he's one of the greatest writers living today. I am an unabashed fan, and this collection of essays about a subject I'm not particularly interested in (being neither husband, father, son, wife, or mother) was a thrilling read.
Chabon's use of language is magnificent. No matter the subject, it's the sort of text where you want to grab anyone in the vicinity and just start reading aloud. I knew I was hooked when I began tearing up while reading the first essay, "The Loser's Club" which recounts a rejection suffered in his youth. "That was the moment I began to think of myself as a failure," the Pulitzer prize-winner writes. Chabon is vulnerable within these essays, sharing deeply personal details of his life, and letting that streak of neurosis shine through. But don't worry that the collection is one long, drawn out therapy session. There are more laughs than tears and as I noted above, Chabon is a very likeable fellow. "I Feel Good About my Murse," for instance, is delightfully silly. Even so, Chabon's got something real to say about masculine identity amidst the laughs.
Not every single essay is a slam dunk. The Lego one sort of left me cold. For you it might be another. But overall, this collection is so strong that it must surely be a go-to gift for fathers, husbands, sons, and all lovers of great writing for decades to come.
Oh, and I've seen him playing with his kids--he really is a great father.