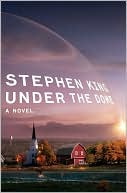 Under the Dome
by Stephen King
From the moment I heard the premise of Under the Dome, I couldn't wait to read it. Here it is in a nutshell: On a perfectly ordinary fall day, an invisible, impregnable barrier surrounds the small town of Chester's Mill, Maine. Nightmare ensues. And I do mean nightmare. Uncle Stevie isn't playing around. This isn't one of his tall tales filled with imaginary monsters and buckets of gore. The monsters here are human, and they are terrifying.
Okay, as an editor, when I see a 1,000+ page novel, my first thought is, "Does it really need to be this long?" Maybe not. I'm sure a few pages could have been trimmed. But I will tell you this... The deeper I got into this novel, the quicker I turned pages--right up until the end, when I was in a veritable page-turning frenzy. It reminded me, right from the start, of the fine work he did in the 70's, when as a child I devoured each new novel upon publication. King hasn't lost his touch with character, and he remains a consummate storyteller.
Under the Dome is epic. The time span is short, but the novel deals with the lives of more than 2,000 people trapped in a combustible hothouse. These are truly terrifying and incomprehensible circumstances. Things in Chester's Mill are bad, and hour by hour the situation got so much worse I didn't want to believe it. But I did. I believed it all. And
that
is Stephen King's genius.