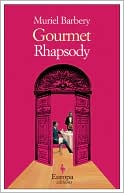 Gourmet Rhapsody
by Muriel Barbery

"I am the greatest food critic in the world." So says Monsieur Pierre Arthens on the first page of Muriel Barbery's charming novella, Gourmet Rhapsody. Readers of Barbery's The Elegance of the Hedgehog will remember Monsieur Arthens, and will see other familiar faces crop up. This novella, while not a sequel to that novel, is set in the same apartment building on Rue de Grenelle.

As we can see from his bold introductory statements, there's nothing wrong with Monsieur Arthens' ego. Alas, it is his heart that is failing. He has been told by his doctor that he has 48 hours to live. Perhaps he could depart this world at peace, if only, if only, he could taste that taste once more. The elusive taste he can't quite remember. What is it? Where did he taste it?

The novella is made up of many brief chapters, alternating between Monsieur Arthens' ruminations on the most formative, the most poignant, the most extravagant, and the most serendipitous meals of his life, and reminiscences of Monsieur Arthens by those who know him. These include those closest to him--his spouse, children, lovers--and those who know him more tangentially.

These interludes are only a few pages long, but each character speaks with a distinct voice. So many of these characters left me wanting to know more of their story. I was fascinated with his wife, Anna, and her unusual attitudes. I can only hope that I will learn more of her someday, as Barbery does not appear to be averse to revisiting her character's lives. Of all the people (and things!) that comment throughout the book, his housekeeper's chapter may have been my favorite. There's something so sad about the way he treated her when compared to those whom he was supposed to love. Pierre Arthens is a complex and arguably unlikable character.

But I did like him. How could any foodie not? His language--even within the confines of his own mind--is florid and overblown, but so much of Barbery's prose is interesting and beautiful. Simply put, it is a joy to read. And I defy you to get through this book without running to the kitchen to satisfy any number of cravings the text will evoke. It is, indeed, a rhapsody to the joys of good food, good people, and perhaps a lust for life.