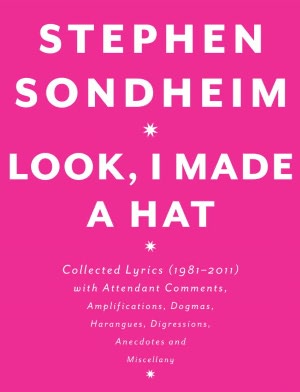 Look, I Made a Hat: Collected Lyrics (1981-2011) with Attendant Comments, Amplifications, Dogmas, Harangues, Digressions, Anecdotes and Miscellany
by
Stephen Sondheim
The first volume of Stephen Sondheim's collected lyrics and reflections was so spectacular, all I could hope for was that he could equal it—and that's exactly what he's done.
Look, I Made a Hat has all the strengths of the first volume.
It has the same gorgeous photographic spreads, and the book designer must have heard all the complaints about the difficult to read typeface of the lyrics in the last volume.
This book features black print that's perfectly legible.
It should be no surprise to any reader that Stephen Sondheim is a master wordsmith.
His precise and slightly persnickety voice comes through loud and clear.
Sondheim's "comments, amplifications, dogmas, harangues, digressions, anecdotes, and miscellany" are absolutely riveting, and his humor peeks through as he relates his stories.
And the man's vocabulary is absolutely staggering!
I was delightedly looking up the occasional word as I read.
"Gallimaufry" anyone?
Steve, I'm happy to learn from you any day.
It could be argued that Mr. Sondheim's most productive years were covered in Finishing the Hat.
Still, the five major musicals covered in this volume (Sunday in the Park with George, Into the Woods, Assassins, Passion, and the many incarnations of Wise Guys) are some of his very finest.
In the first volume, I was so excited to read about the troubled production of Merrily We Roll Along.
In this volume is was the circuitous history of Wise Guys/Bounce/Road Show—a "saga in four acts, he calls it—that I was anxious to hear straight from the horse's mouth, as it were.
There's one more thing about this second volume that, in some ways, tops the first book for me.
Mr. Sondheim wrote about many of his most famous and classic shows in the first book, but there are a lot of resources with which to learn about those celebrated productions.
In this volume, he speaks of the musicals that were never to be, the movies, the television work, and other miscellaneous projects.
A lot has been written about Company, not so much about the unproduced musical Muscle, or the amazing television musical Evening Primrose.
In short, this is the
only
place you can really read about these almost mythological productions.
Yes, I'm a huge geek, but I'm not alone.
It's thrilling!
I came of age during the years covered by this book.
I must have been 18 or 19 when I took the train to NY for the first time to see a Broadway show.
I vividly remember the sight of the giant's enormous legs hanging over the side of the (then) Walter Beck Theater.
It was my very first Sondheim production on Broadway.
It was the first of many, and it was life-altering.
All I can say at this point is:
Thanks for the music and thanks for the memories!