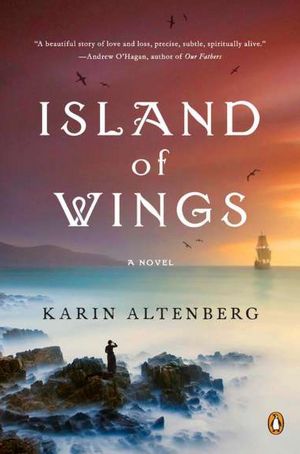 Island of Wings
by
Karin Altenberg
My best friend and I jokingly rate books and films on their "Susan-friendliness," and that's nothing more than the completely subjective scale of my idiosyncratic likes and dislikes.
I should have known that Karin Altenberg's debut novel,
Island of Wings,
wouldn't be my cup of tea.
But that said, I don't necessarily think that there's a thing wrong with this novel.
It's not my kind of story, but I think that it was skillfully and effectively told.
Perhaps most interestingly, the story here is heavily based on historical fact.
It is a fictionalized account of the life of Reverend Neil MacKenzie and his wife Lizzie.
MacKenzie, dealing with demons of his own, asks the Church of Scotland to "preach the Gospels in the most godforsaken place they could offer—he had suggested
Newfoundland
, where he was sure he could do a world of good.
In the end, the Society in
Scotland
for the Propagation of Christian Knowledge had asked him to go to St. Kilda—the furthest inhabited islands in Britannia."
The novel, which is told somewhat episodically in eight parts between the years 1830 and 1843, has clearly been meticulously researched, and I found the author's note at the end quite interesting.
The setting of the novel is a fascinating place with which I was completely unfamiliar.
When the couple arrives in 1830, the islanders are enjoying a happy subsistence, living exactly as their ancestors did centuries earlier.
It's a very different, rather primitive way of life.
Altenberg does a great job of conveying the harsh beauty of this remote place, with special attention to the natural world.
What I personally had trouble with was the relationship at the heart of this novel, and the character of the Reverend.
Women didn't have an easy time of it back then, and while I can't say that this novel is completely joyless, it's a harsh existence and utterly humorless.
Also, as a secular Jew, the whole idea of Christianity being forcefully foisted onto a disinterested people is distasteful to me in the extreme.
Reverend MacKenzie is not a sympathetic character and was simply not someone I wanted to spend 300 pages with.
Still, he was characterized well enough (and not as some kind of black and white monster, but as a very flawed human) to arouse strong feelings in me.
While
Island of Wings
ultimately wasn't for me, I fully expect it to find its audience, and I am certainly open to reading Ms. Altenberg's future work.