So, this was supposed to be a good week. My friend Boyd's debut novel, The Ark, went on sale on Tuesday. I've been involved with that novel since the very first draft, so it's a really big deal. A
nd it's a great novel! (You may notice my review immediately below this post.) My plan was to pimp Boyd's novel online all week. We all need a little help from our friends, right?
Unfortunately, Boyd's success isn't why I'll remember this week in years to come. On Monday morning I woke up, but my lovely companion Weasel didn't. He's been with me most of my adult life, and I'm having a really hard time with the loss.
Weasel was about 19, so he had a long, healthy, happy life and he died at home. You couldn't ask for any more than that. He was a good friend all these years, and there wasn't a person that met him that didn't comment on how special he was. Truly. His crazy, blonde "mother" used to drag him all around town on a leash or in a totebag. (I grew up with dogs, okay?) Weasel was a popular visitor to bookstores, the beach, parks, sidewalk cafes, hotels, shops--he came all over the place with me. Back when I was stage managing all the time, he'd come to rehearsals and sit quietly in a seat at the theater until I was done. There will never be another cat like him.
See that photo of us on the right? That was taken about eight years ago at
Books by the Bay by none other than author Christopher Moore. Weasel actually met more best-selling novelists than most readers of this blog.
Oh, and can you see the markings on his forehead? The cat had a "W" on his forehead. I called it "The Mark of the Weasel." He was so funny, and friendly, and sociable. He used to go up to strangers in bookstores and sort of flop on his back at their feet and wiggle around like, "I get no love and attention at home." Shameless!
When we lived in San Diego, he'd meow at passersby out the street-level window until they'd come over and talk to him. Oftentimes I'd be just out of sight eavesdropping on their conversations. One day a good-looking guy came knocking at my door. He didn't want to meet me; he wanted to meet Weasel. That cat had charisma.
Intellectually, I knew our time was limited. He was well beyond the average life expectancy of a house cat, but somehow that doesn't help at all. I am heart-broken. I've been crying all week and my eyes feel raw and sore.
People are incredibly kind. Most people know what it is to love and lose an animal. Sadly, I'm not the on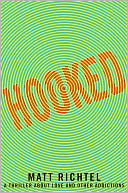 ly one in this situation right now. My friend Donna lost her cat last week. He was only eight. I am lucky Weasel and I were together for so long. My friend Matt has a desperately sick cat at home, too. We're all heart-broken.
Matt had some good news to share, at least. He's the author of a terrific debut thriller that came out a couple of years ago called Hooked, and he's getting the sequel ready for publication now. That's not the good news. Matt has a "day job" writing for the New York Times. He won a freakin' Pulitzer Prize for journalism last month! (That'll teach me to only check the book and drama winners.) How crazy is that?
And one more item of note...The big promotion I've been working towards for months? It looks like it's coming through on June 1st. Wish I felt like celebrating. So, congrats to Boyd, to Matt, and to me.