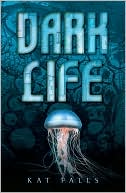 Dark Life
by Kat Falls
In introducing us to the world she's created in Dark Life, author Kat Falls uses a tried and true device--the fish out of water. Or the fish IN water. Well, a girl in water, at least.
Falls' debut novel is set in what I certainly hope is a fairly distant future, a time after "the Rising." Global warming and a rising sea level have caused a 20 percent decrease in worldwide land mass. U/V radiation is so bad you'll fry unless your skin is heavily slathered with zinc. Resources are stretched thin. The country is under martial law. Space is now the ultimate luxury, and the vast majority of people live many to a room in towering vertical cities. Falls doesn't paint a pretty picture.
These are the circumstances that compelled a few brave souls to venture under the sea. Scientists at first, but eventually other "pioneers" have staked their claim below the surface. These homesteaders don't live in domed cities beneath the sea. They've each got a private home based on the latest in sub-sea architecture. They're engaged in aquaculture, and surrender an exorbitant percentage of their catch and crops to the government in taxes. This is what feeds the "topsiders."
Fifteen-year-old Ty Townson was born beneath the sea. It's his home, and the only place he wants to live. During a brief surface visit he wonders, "How was anyone comfortable up here?" In the opening pages of the novel, Ty ducks into an abandoned sub to escape a pack of green lantern sharks. Out of the frying pan and into the fire; the interior is drenched in blood. Fortunately, the only body he discovers is that of fellow teen, Gemma Straid. Topsider Gemma had boarded the sub hunting for her older brother, and had made the same gruesome discovery. The two teens become fast friends, and Ty agrees to help Gemma with her hunt.
As Ty introduces Gemma to his world, we see everything through her outsider's eyes. It is a truly fantastic world that Falls has imagined! Without going so far as to call it realistic, I will say that she's based her sub-sea frontier on good science, from the Liquigen the divers breathe to the marine life they encounter. Some of the most fascinating creatures in the ocean make cameo appearances on the pages of the book, all of them depicted more or less accurately. Ms. Falls has a knack for picking the coolest critters, but it just goes to show you that when it comes to the underwater realm, reality rivals the most vivid imagination.
Let me not slight Ms. Falls, however. She uses her imagination plenty. In Dark Life she has created a fully-realized world. In addition to the fascinating environment, there are politics, there is culture, and there is slang: "We gotta make wake!" "I felt like total Chum." It was the world that she's built, much more than the tale of missing brothers and marine bandits, which had me completely captivated. Her young characters are appealing, but seemed sort of innocent for their ages. When Gemma asked, "Don't you ever get sick of being so good?" I'll admit I wondered the same thing. Well, I guess there's no harm in a couple of good role models in a young adult novel.
The book comes to a neat conclusion after some thrills and chills and a few twists along the way. There's nothing there that suggests a sequel, but I, for one, would love to learn more about the mysteries of the Dark Life.
Comment
Permalink