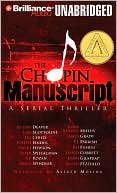 The Chopin Manuscript
by Jeffrey Deaver et al
The Chopin Manuscript and other novels of its kind are novelties. The idea is that one author will start and finish the novel, and that each chapter in between will be written by a different author working off of what's come before. This particular collaborative venture was the brainchild of the International Thriller Writers (ITW), and you'd be hard-pressed to find a more prestigious group of storytellers anywhere. In addition to Jeffrey Deaver, there are quite a few best-selling authors participating in The Chopin Manuscript, among them Lee Child, Joseph Finder, Lisa Scottoline, and David Hewson. Even among the less well-known authors there is tremendous talent exhibited. These are all writers capable of keeping their audience rapt, but the cards are stacked against them here.
Deaver opens the story with American Harry Middleton being stopped at the Warsaw Airport and being brought to the police for questioning. Middleton insists the hand-written Chopin music manuscript he's carrying is a fake--one he was called in to authenticate, but it turns out that's not what the police want to discuss. Rather, it is Middleton's lunch companion who, along with two others, has just turned up murdered. It's a respectable start to what soon becomes a globe-hopping tale of international intrigue.
Chapter by chapter, each author builds on what's come before, but tries to add his or her own twists, turns, surprises, and reversals--to the point that things ultimately become a bit ridiculous. This is a challenging task they've set themselves, and no one drops the ball, but it's just no way to tell a cohesive story. It's impossible. The plot is all over the place, the characters are undeveloped, even settings are descriptive passages are superficial. Some of the plot twists and story elements are patently absurd.
Oh, and I have no idea why this was produced exclusively as an audio book. The production values are excellent. And it's a tour de force for the preternaturally talented Alfred Molina, who does dozens of different character voices in just about every foreign accent imaginable. Even so, it was a devil to follow. There were so many characters to keep track of, and you couldn't just flip back in the book to remind yourself who they were. Far worse was this--the bulk of the characters had Polish or Slavic names. I couldn't tell you what they were. I couldn't spell them, pronounce them, or keep them straight as I tried to follow this complex narrative. Hopefully, you have better ears for that sort of thing.
The Chopin Manuscript is a novelty. I was curious to hear it and now I have. I'm definitely impressed with the talent of all involved, but I'm not rushing out to hear the sequel.