It's not much of a secret that I've been friends with novelist
Allison Leotta
for the past few years. I met her at
Thrillerfest
in New York a few months before her debut novel,
Law of Attraction
, was published. (IIRC, she approached to ask me about the embroidery I was stitching on.) Over the course of the next few days, I discovered that she was a delightful lady. That is often enough to inspire me to sample one novel, and so once it was published I did check out
Law of Attraction
. I've been a fan ever since. Ali has been described as "the female John Grisham" in the Providence Journal, and I can't do better than that.
So, the video above has been dubbed "the booty call of interviews." I've been meaning to shoot a video interview with Ali for the past couple of years, and it just never happens. We kept trying to schedule time during the most recent Thrillerfest in July, but somehow it still never happened. Time was running out.
As it happens, Ali and I share a tradition with several friends. On the last night of Thrillerfest we get dressed in our best and have a night out on the town before heading back to the Grand Hyatt for a long night of socializing well past closing time in the bar. Here's a photo of the group of us at dinner earlier in the evening: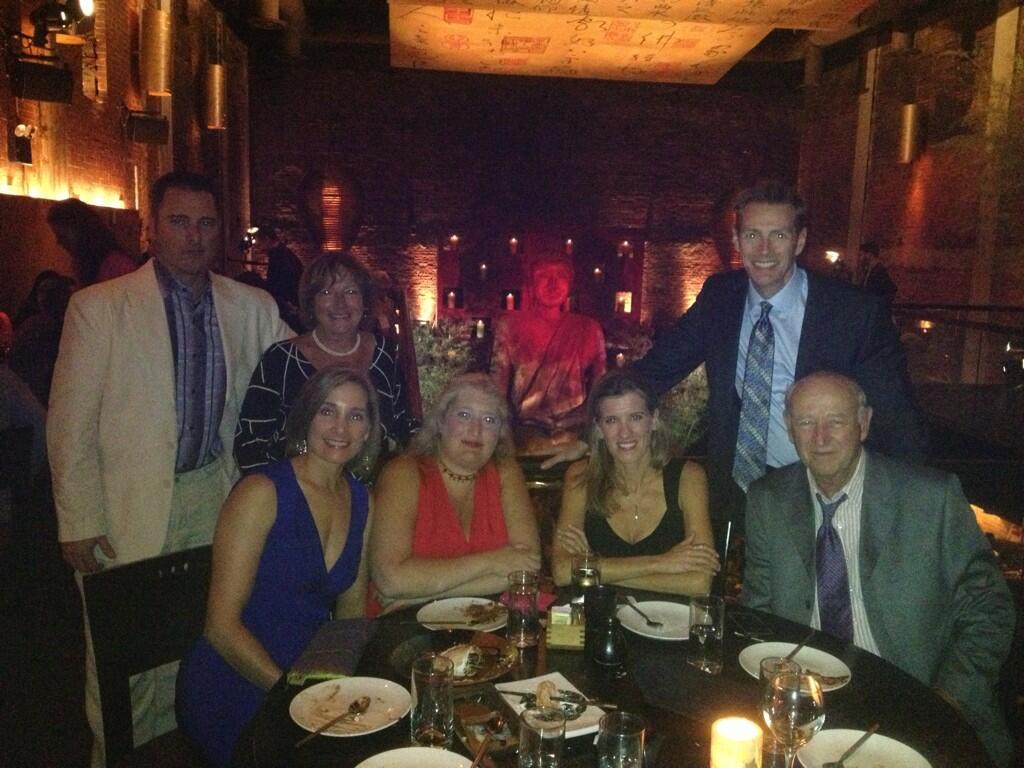 For those who are curious, in the front row from left to right is Randi Morrison, me, Allison Leotta, and Paul Kemprecos. The second row is Graham Brown, Christi Kemprecos, and Boyd Morrison--all great friends. Oh, and yes, that's a two-story Buddha in the background of this hip, Midtown eatery.
Sometime a bit past midnight I realized that another year was about to pass with no interview. I was determined. I was, as you'll hear, 84% of the way through her forthcoming novel,
Speak of the Devil
, and was
very
caught up in the story. I'd been sort of harassing her about torturing her protagonist all weekend. So, throwing caution to the wind, Ali and I set our cocktails aside and filmed the very casual conversation above. The, uh, scotch might explain my filming in the first moments of the video, but it settles down reasonably quickly.
I hope you enjoy this interview. We were having fun. Ali is as poised as can be and I sound incoherent, but it was late, okay? Ali's third Anna Curtis legal thriller goes on sale this Tuesday, August 6th. I can't recommend this series enough--and friendship has nothing to do with it. My review of
Speak of the Devil
will be posted to this blog early next week.
NOTE: OMG, the Kindle edition of Ali's debut novel, Law of Attraction is still on sale for $2.99! Grab this bargain by clicking on the link in the novel's title ASAP. It's too good a deal to last.