Scott Hutchins
and his debut novel,
A Working Theory of Love
, first came to my attention last June at BEA, or BookExpo America, a huge publishing trade show. The novel had a lot of what industry insiders call "buzz." People were interested. Reviews were positive. I grabbed a galley.
I didn't read it, of course. I mean, it wasn't even scheduled to be published until October, and I had
way
more books I had to read between now and this novel's pub date. But I did look at the book. I liked the title, and
was that...?
Yes, it's a highly-stylized representation of the Golden Gate Bridge on the cover.
Hmmm
,
both author and story are local
. Bonus points.
I still didn't read the book. I was waiting for Penguin to come through with an electronic galley so that I could read it on my Kindle. (Paper is so five years ago.) Those weasels at Penguin never did cough up that e-galley. And so, I attended Scott Hutchins' local launch party at
The Booksmith
on Haight Street without having read the novel.
And this is how it happens sometimes with me: an unknown author impresses me at a reading. Such was the case with Scott Hutchins--at his first ever event for his debut novel--and so now, at long last, I am reading the book. (And, so far, it
is
excellent.)
Scott got me off to a good start with the reading recorded here. In the video at the top of this page, after a few opening remarks, he begins reading from the beginning of the book. That reading continues through video 5 of 7 below. I was surprised, later, when reviewing this footage, that he had read for almost half an hour, somewhat on the long side for this sort of thing. It didn't feel that long at all in the store. He really held the audience rapt. It's a strong opening, and he read it well.
The last two video segments on this page constitute a brief Q & A session, also worth watching. Mr. Hutchins teaches at Stanford, and he handles himself well in front of an audience. ( BTW, sorry about the brief shakiness in the first video; it passes fairly quickly d a workable shooting angle. This is actually better footage than what is usually seen on this blog, LOL. )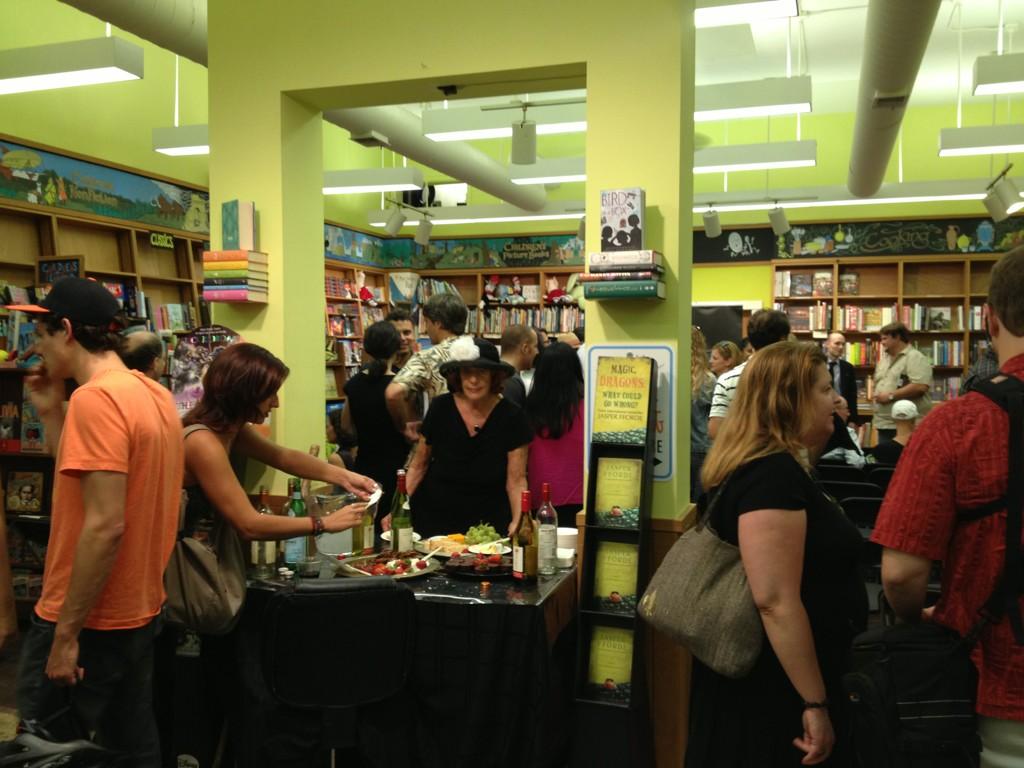 The crowd at the Booksmith launch party.
So, I mentioned above that this was a launch party hosted by The Booksmith. Those guys are awesome, and they unfailingly throw a lovely event. And one of the nicest things about the San Francisco literary community is that they come out for each other. I can't tell you how many times I've encountered Bay Area literary luminaries at an event celebrating a far less well-known writer. Case in point, who did I run into that night?
Adam Johnson
, author of one of my favorite novels this year,
The Orphan Master's Son.
As it happens, I'd had a really nice interaction with Johnson in that very same bookstore last January on the night of
his
launch. I'd similarly
blogged
and
posted video
, after which Mr. Johnson, a truly lovely man, had sent me a note of thanks via snail mail.
Who does that?
To say I was charmed is an understatement. So, when I saw him at this event, I approached to reintroduce myself and thank him for his note. The reintroduction was unnecessary. Mr. Johnson remembered exactly who I was and introduced me to his companions with such flattering words that I blushed. Seriously, what a genuinely nice man he is! (That's not a compelling reason to read his novel, but after reading close to 200 novels in 2013, I can tell you without hesitation that The Orphan Master's Son will be on my Top 10 List at the end of the year. Niceness has nothing to do with it.)
But, speaking of lovely interactions, I did speak with Scott Hutchins at the event as well. I explained the reason I'd had a video camera in his face the whole evening was that I was a book blogger. He, too, inexplicably seemed to know my name and blog. (I assure you this is unusual.) I'd forgotten to bring my galley to the event, but seeing as we are both local, I told Scott that I'd undoubtedly "see him around town."
I received a very nice and unexpected follow-up email from Scott a few days later, so he really must known my name, because I never gave him my contact info. And it turns out that I was quite right, as I ran into him
twice
the week following this event. I was worried he'd think I was a stalker, but it was a major lit week in San Francisco, with both the
Litquake
Festival and the Northern California Independent Booksellers' Association Trade Show going on. I'm exhausted again just thinking about it.
Anyway, it turns out that Scott Hutchins is as pleasant as he is talented. In our interactions, he always seemed very authentic, and not at all like a schmoozing author on tour. I did eventually get a copy of A Working Theory of Love signed, and I am very much looking forward to finishing the novel and hopefully reviewing it in the not too distant future. For now, I'm happy to be able to share this event that finally introduced me to Scott Hutchins.
Oh, and one more thing... If you're inspired to read the novel as I was,
I totally know where you can get a signed first edition. That's right, from the awesome folks at The Booksmith.
They have amazing customer service and can ship anywhere. I'm just sayin', support your local indies!