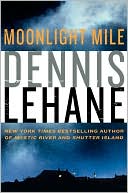 Moonlight Mile
by Dennis Lehane
Not only have I not read the books, I haven't even seen the movies--except one. I saw Gone Baby Gone, which is good because Moonlight Mile is the sequel to that book. So, I knew this book was a sequel when I picked it up, but I didn't actually realize it was the 6th book in a series. I don't generally like to start a series in the middle. Well, it's good I didn't know, or I might have missed out on a fabulous novel and delayed my introduction to Mr. Lehane further. If it's not already explicitly clear, I didn't find coming to this series late a problem. Exposition was used beautifully, not only to tell the back-story, but also to explicate character. That said, I'm pretty sure I spoiled several past novels for myself, but Lehane's writing is so strong and his characters so appealing, that it wouldn't stop me from reading the preceding books in the series.
The central characters in the series are private investigators Patrick Kenzie and Angie Gennaro. Angie's been out of the business for years, acting as stay-at-home mom for 4-year-old Gabby by day, and going to grad school by night. Patrick's trying to make ends meet working as a subcontractor for a high-end Boston investigative firm and hoping to get hired on permanently. Patrick and Angie have a life together. They're happy. And they don't discuss the McCready kidnapping from 12 years ago. If their marriage has a third rail, the outcome of that case is it. And all is well until Bea McCready contacts Patrick: Amanda is missing again.
Amanda is no longer a 4-year-old cutie. By all accounts, she's a remarkably self-sufficient 16-year-old young woman. Despite the privations of her upbringing, she's a brilliant and successful student. However, Amanda may be a little too smart for her own good, and may have learned some life-skills that no teenager should know. As Patrick and Angie are drawn back into a world they hoped they'd left, the twists and turns kept me flipping pages like mad. There was one revelation that was obvious to me, but two pages later there was a jaw-dropping shocker. Time and time again Lehane managed to surprise me. This was an undeniably excellent mystery.
And despite the thrilling plot, even as a new-comer to this well established series, this novel was all about character for me. Whenever I can hear characters' voices in my head (instead of my own reading voice), I know that an author has brought them completely and totally to life for me. It doesn't happen that often. But, Patrick, Angie, and the many supporting characters were beautifully drawn. Wow, my first taste of the celebrated Mr. Lehane and I am hooked!