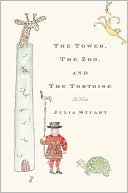 The Tower, The Zoo, and The Tortoise: A Novel
by Julia Stuart

Look, I enjoy reading books that make me happy. As soon as I read that it was being marketed towards fans of Chocolat and The Guernsey Literary and Potato Peel Pie Society, I knew that this was a book for me. And this time I wasn't let down.

The Tower, the Zoo, and the Tortoise revolves around Balthazar and Hebe Jones. Because of his job as a Beefeater, the couple is required to live on-site at the Tower of London. It is there that they raised their son Milo, and it is there that they lost him. Now the grief-stricken parents are custodians only to Mrs. Cook, the world's oldest tortoise, who has been a fixture in Balthazar's family for generations.

As you would expect, the loss of a child is a brutal hit to a marriage and to their lives. Balthazar is hanging onto his job by a thread when he learns that the Queen would like him to be in charge of a new menagerie at the Tower, made up of all the animals that have been gifted to her by heads of state. Adding wild animals to the fantastically quirky and charming Tower community creates all sorts of delightful complications.

Meanwhile, we also learn of Hebe's idiosyncratic career in the London Underground Lost Property Office where we meet an equally quirky and charming cast of characters. You would NOT believe what people leave on the Tube. I'd list a few examples, but the successively outlandish appearances are too much fun to spoil.

Will Balthazar keep his job? Will their marriage survive? Will the various lovers in the book find happiness? These are the questions, and while clearly not everything in this book is happy, I think we all know from the cover art alone that the odds of happy endings are pretty darn good. Along the way there is heart-warming humor and plenty of chuckling out loud. This type of novel may be a bit twee for some, but you'll get no complaints from me. Well, one small complaint: there was some odd redundancy to the text that I'm going to assume was a style choice I don't understand. But that's it.