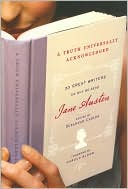 A Truth Universally Acknowledged: 33 Great Writers on Why We Read Jane Austen
by Susannah Carson

I have just indulged in a week of Jane Austen. It's so good for the soul; I really should make it an annual tradition. I read one of the six original novels, a contemporary update of one of the novels, watched cinematic adaptations, and finally delved into this wonderful book of literary criticism. I'd been holding off, wanting to be just a bit more steeped in Janeism before I tackled it. I've been so looking forward to diving in based merely on the wildly distinguished list of contributors.

There are renowned literary critics like Harold Bloom and Lionel Trilling, academicians like John Wiltshire and Janet Todd, classic novelists like Eudora Welty and Somerset Maugham, and contemporary novelists like A.S. Byatt and Jay McInerney. There's even a token filmmaker, Amy Heckerling! There is no hyperbole at all in the assertion that these are 33 (34, really) great writers. One name is more impressive than the next, and I've barely scratched the surface.

Based on the diversity of the contributors, you would be correct in suspecting the diversity of the essays in this collection. Some deal with the author herself, or the time in which she lived, others the entirety of her work, and some focus on a single novel. My first thought was to read the more general essays first and to then focus on the contributions specific to a novel after I had just read or re-read it, so that the particulars were very fresh in my mind. Now that I've been reading the essays, Austen's work, and the work of others inspired by Austen at roughly the same time, I don't believe my approach need be that rigid. Reading some of the essays on Emma while still reading the novel gave me great insights that I might not have come to or appreciated on my own.
I'm refraining, in this review, from pulling out quotes from the essays, but only because I wouldn't know where to start. There hasn't been one yet that wasn't infinitely quotable. Where's a highlighter when you need one? Some of the essays are more academic in tone than others (many have endnotes), but they are all smartly-written, challenging, and elucidating on this eminently worthy subject. This collection of essays will surely become a cherished reference I delve into over and over as I continue to enjoy Ms. Austen's timeless works the rest of my life.

Comment
Permalink