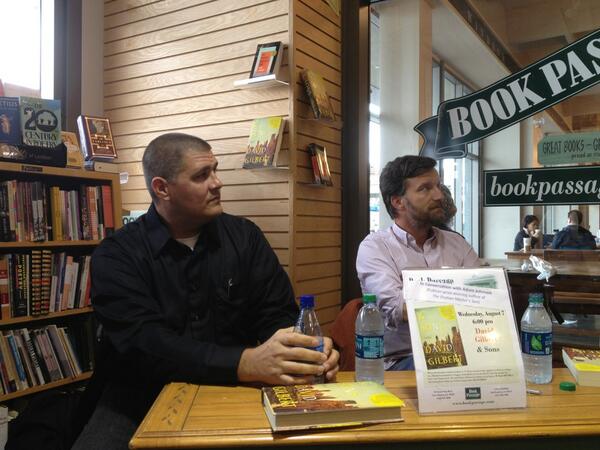 My fall got off to a rocky start health-wise. I've been out of balance, and I've been having trouble writing for the past few weeks. Ridiculous, I know. But the good news is, I've been attending some
amazing
literary events around town. Sometimes I'm bad about sharing or uploading the video I shoot, but I think this week is the week to feature some seriously awesome events.
The following video was shot several weeks ago—shortly before I contracted the flu, hence the delay in posting. This is the sort of evening that makes me grateful to live in San Francisco, a city where authors like
David Gilbert
come on book tour, and a city that is home to an extraordinary local literary community. The night of Mr. Gilbert's lit event at the
Book Passage
Ferry Building store epitomized what I'm talking about.
Make no mistake, I was pretty excited to hear David Gilbert speak. His novel, & Sons, is
unquestionably one of the best novels I will read this (or any) year. You may read my rave review
here
. The novel is wonderfully substantive, and I was really curious to hear what the author had to say about it. It wasn't until the day of the event that I learned he'd be "in conversation" with
Pulitzer Prize-winning novelist Adam Johnson
. Amazing! Where but San Francisco can you see these two literary powerhouses in conversation at your local independent bookseller's?
Now, readers of this blog may recall that I'm a huge fan of Adam Johnson, professionally and personally. I don't know the man well, but as far as I can see, he's the nicest person on the planet. Seriously, the man's sweetness and gentleness has been the subject of more than one conversation among the local literati. The opinion is unanimous. And, Adam, I'm sorry to embarrass you if you ever—God forbid—happen to read this.
Here's the other thing that is consistently amazing about the San Francisco literary community… They come out to support each other. On this particular evening,
Andrew Sean Greer
,
Scott Hutchins
, and
Tom Barbash
were among the audience. I'm friendly with all of them, so it was a great social atmosphere. And we were discussing this very thing—the terrific, supportive literary community—after the talk. I said something along the lines of San Francisco having possibly the best local lit community in the country. I said that people always talk about Brooklyn, but that by all accounts, it's super-competitive out there. Tom Barbash came back with a quote from Vendala Vida: "In New York, writers read each other's reviews. In San Francisco, writers read each other's books." That's it in a nutshell.
It goes without saying that the conversation between Johnson and Gilbert was fascinating. And I'm so delighted to be able to share it with you in its entirety. Enjoy!
P.S.: I am confident that
Book Passage
would be happy to sell/ship you a signed copy of either of these authors' work!